This is what democracy looks like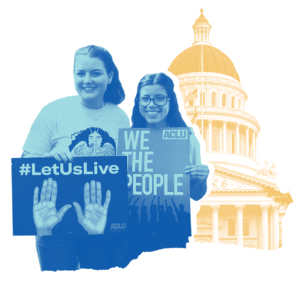 Every year, ACLU California Action fights for bold policy change in the legislature. This year is proving to be consequential for democracies worldwide and in California, we're seeing more and more threats to our civil rights and civil liberties.
In 2022, we're pushing back against the erosion of unfettered access to voting, the resurgence of 90s-era fearmongering and failed approaches to community safety, and the unprecedented attacks on reproductive rights — all while advancing critical bills to create a better California for all.
But this is what the ACLU was built for and why we are proud to announce a bold agenda for this upcoming state legislative session:
Reproductive Justice
AB 2223 (Wicks): Clarifies that pregnant people and those who assist them shall not be held liable for their pregnancy outcomes.
Voting Rights
AB 2841 (Low): Protects voting rights for people with disabilities and for registered voters at risk of being mistakenly removed from voter rolls.
Immigrants' Rights
AB 937 – VISION Act (Carrillo): Withdraws state and local cooperation from immigration enforcement that often results in deportation. Learn more about this bill.
LGBTQ+ Justice
SB 357 (Wiener): Repeals loitering laws that have enabled discriminatory policing of communities of color, including trans women of color. Learn more about this bill.
Education Equity
SB 1273 (Bradford): Protects students from criminalization by eliminating laws that require schools to notify law enforcement of certain kinds of student incidents. Learn more about this bill.
Racial Justice & Economic Justice
AB 2022 (Ramos): Creates a process for eliminating racially offensive place names. Learn more about this bill.
SB 1106 (Wiener): Reduces barriers to re-entry created by onerous state criminal fines.
Criminal Justice & Police Practices
AB 256 – Racial Justice Act for All (Kalra): Allows prior racist convictions and sentences to be overturned. Learn more about this bill.
AB 1608 (Gipson):  Requires counties to establish a coroner/medical examiner's office, independent from the sheriff's department. Learn more about this bill.
AB 2418 (Kalra): Strengthens data collection by District Attorneys, ensuring greater transparency of prosecution decisions and outcomes.
SB 1223 (Becker):  Reduces barriers to participation in programs that offer diversion from incarceration into community-based mental health treatment programs, ensuring that more people will get the mental health supports they need.
Technology & Privacy